Key West is a major cruise destination for millions of visitors each year. Cruise guests only have one day to see as much of the island as possible. In addition, many people from South Florida and the Lower Keys come to visit Key West for just a day as part of their vacation itinerary. The secret to getting the most out of your visit is planning in advance. Check out our list of things to do while visiting Key West for a day.
Climb Aboard a Sightseeing Tour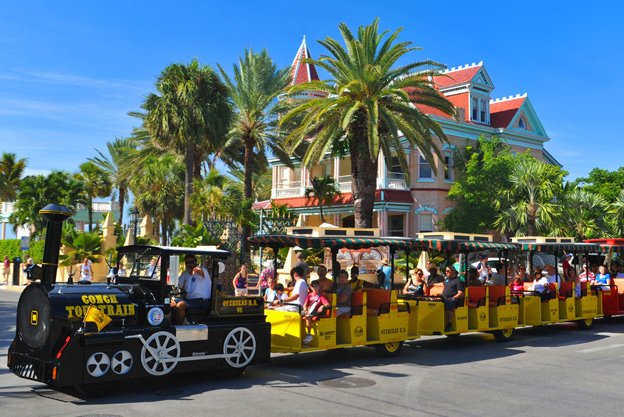 The Conch Tour Train offers a 90-minute tour of the island, where you can embark on a sightseeing adventure around Old Town. Tours start at 9 a.m. daily and depart every 30 minutes. Learn all about Key West's rich history, colorful characters and popular things to do. Beginning at the Front Street Depot, the train makes three stops including Station Depot at the corner of Front and Duval Street, Truval Village at the corner of Truman Annex and Duval Street and Flagler Station near Key West's historic seaport. Guests can hop off the Conch Tour Train and explore any of these areas. During the tour, get off at the Truval Village stop to snap a must-have photo at the Southernmost Point of the United States. Then, continue on the tour until you arrive back at Mallory Square.
See Marine Animals at the Key West Aquarium
The Conch Tour Train will conveniently drop you off near Mallory Square at the end of the tour. While you're there, be sure to stop by the historic Key West Aquarium and enjoy a guided aquarium tour as well as animal feedings. The aquarium's touch tank is home to many fascinating marine creatures, including conchs, horseshoe crabs, sea urchins and more. There are four shark feedings every day. Catching the 9 a.m. Conch Tour Train will give you enough time to get up close and personal with a nurse shark during the morning feeding.
Explore Key West's History
Within walking distance of Mallory Square and close to the Rum Barrel, you'll find the Custom House. An award-winning museum showcasing Key West's rich maritime and trade history, this beautiful structure houses the headquarters of the Key West Art & Historical Society. Admission is only $9 for adults and $5 for children to experience two floors of captivating exhibits.
Next, immerse yourself in maritime and salvaging history at the Key West Shipwreck Treasure Museum. Touch actual treasure from a famous shipwreck and check out interactive maritime exhibits. Then, climb to the top of the 65-foot museum lookout tower. Enjoy the birds-eye view of Key West and take pictures to commemorate your day.
Watch the Sunset Celebration
The Mallory Square Sunset Celebration highlights Key West's famous sunset. The nightly festival invites visitors and locals alike to celebrate the island's unique culture and natural beauty. Watch magicians, fire jugglers, clowns, musicians, sword swallowers, acrobats, comedians and more. You can also stop by Mallory Square shops such as the Shell Warehouse, Sponge Market and Cigar City to pick up one-of-a-kind souvenirs. Bring your family, friends and even your pet to experience this unforgettable Key West tradition. Cruise guests may not have time to watch the celebration from land, but will be able to see the sunset as the ship leaves the port.
Order a Drink at the Green Parrot Bar
After the sunset celebration has drawn to a close, mosey on over to the Green Parrot Bar located just off Duval Street. Famous for its live music and local color, the dive bar is known as a "sunny place for shady people." Order the Green Parrot's signature Root Beer Barrel, snack on free popcorn, shoot pool and listen to music. It's the perfect way to end a day in paradise.