Monroe County Sheriff's Office Petting Zoo
Open the the 2nd and 4th Sundays of each month, the Sheriff's Animal Farm is a place where kids of all ages can meet horses, a cow, pigs, goats, bunnies, alligators, tropical birds, turtles, and snakes. The Sheriff's Animal Farm is also home to abandoned exotic animals including tropical birds, a kinkajou, sloths, a lemur, an emu, and a family of cavy's. Guests will be enchanted by exotic wildlife around them on Stock Island. The farm is free of charge.
The Yankee Freedom and Dry Tortugas Interpretive Center
The Dry Tortugas Interpretive Center provides visitors a glimpse of the Dry Tortugas National Park. Admission is free. A model of historic Fort Jefferson and Garden Key is the centerpiece of the museum and shows the immense scale and daily activities of the fort itself during post Civil War days. Opened from 8:30 a.m. to 5:00 p.m. every day of the week, it is located in the Thompson Fish House in the Historic Seaport. Don't forget to check out the attached Sails to Rails museum!
Gato Pocket Park
A small green space for public enjoyment, the Gato Pocket Park is a recreation of a 1800 cigar maker cottage. Most cigar maker cottages were shotgun houses and can still be found all over Old Town Key West.
Watch the Tarpon
Located on Margaret Street near Local Color, Turtle Kraals, and the Yankee Freedom Interpretative Center, are thousands of tarpon that swim along the docks and underneath the boats! It's a great place for kids and adults alike to walk through the docks and admire the schooners, in addition to watching the fish dart about in the crystal blue water. And it is conveniently located near mouthwatering restaurants and chic shops.
Fury Water Adventures Glass Bottom Boat
Explore the underwater world of North America's only living coral reef while staying safe and dry. A Glass Bottom Boat tour is ideal for younger family members who aren't ready to swim and those who enjoy a relaxing trip on the open sea. While aboard this informative eco-tour, discover such marine life as brain coral, Elkhorn and over 300 species of fish.
Conch Tour Train
See the Best on the train tour that's been entertaining visitors to the Island City of Key West, Florida since 1958. The Conch Tour Train is one of the most popular Key West attractions and for a good reason! Purchase a ticket for a 2nd consecutive day for only $10.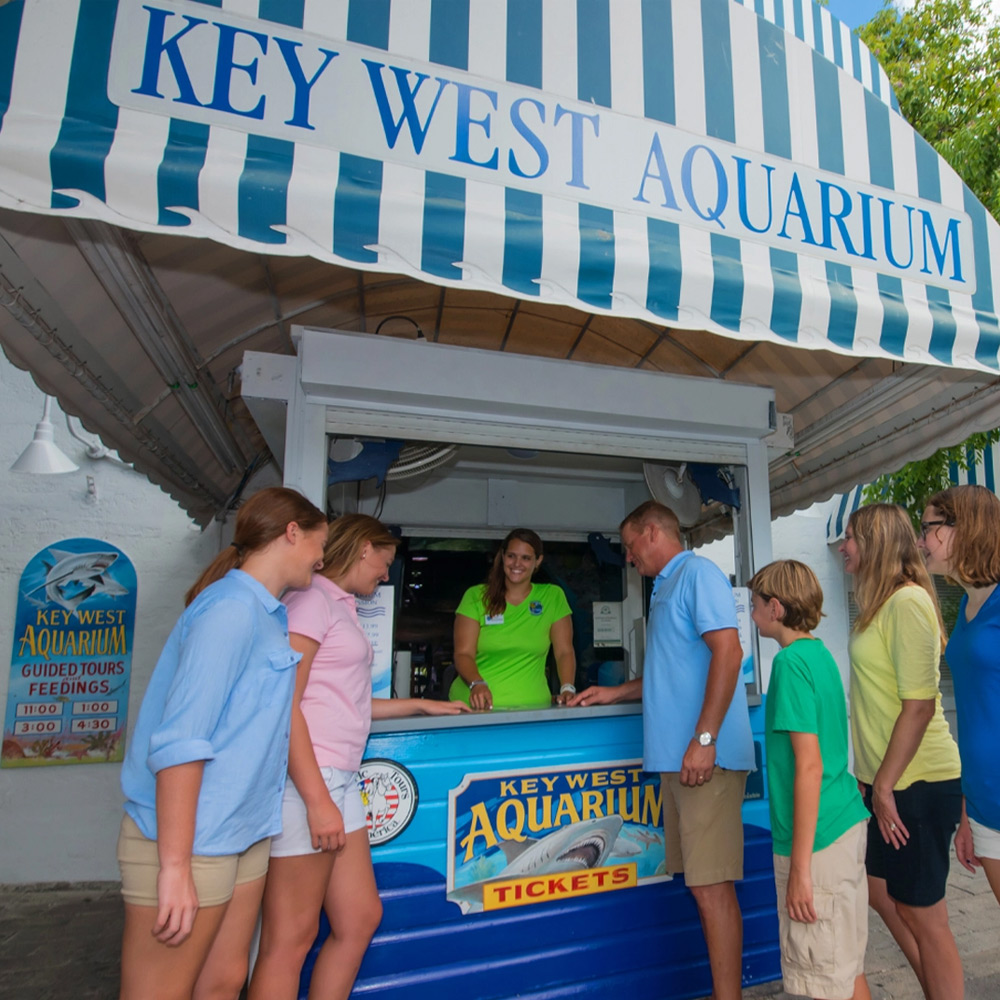 Key West Aquarium
Built as the first attraction on the island in 1932, the Key West Aquarium is today home to the underwater residents of Key West: sharks, turtles, tropical fish, and game fish.
Nancy's Secret Garden
Nancy Forrester has been rescuing abused and abandoned parrots for 25 years and has created this special place to house these very unique birds. Children are welcome and encouraged to spend time with the birds… play music, feed them, paint, and take pictures. This wonderful experience, located at 518 Elizabeth Street, is open from 10 to 4 every day for you to bond with these endangered birds.
Key West Butterfly & Nature Conservatory
For families that enjoy experiencing nature up close and personal, the Key West Butterfly & Nature Conservatory is a great place to visit. Feel connected to the environment as you stroll through this relaxing, glass-enclosed oasis encountering upwards of 60 butterfly species from across the globe and more than 20 species of exotic birds. Then, visit the Learning Center for a 15-minute film that educates viewers on the life cycle and basic facts about butterflies.
Fort Zachary Taylor State Park
No trip to Key West is complete without a beach day. Pack a picnic lunch, grab the sunscreen and head to Fort Zachary Taylor State Park. This site offers activities for everyone in the family. Whether you're looking to sunbathe while reading a good book, hit the water with a snorkeling mask and fins, explore the wooden nature trails or tour the historic Fort Taylor, this 54-acre state park offers it all. Stick around for great views of the famous Key West sunset.